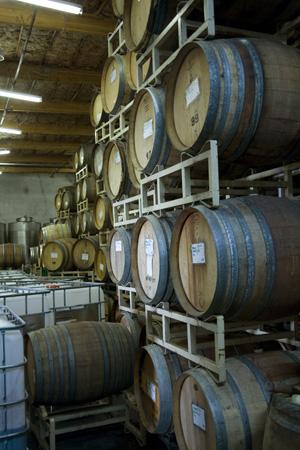 Within weeks after Philip Spalding and I got our ton of 1975 Cabernet, I took Molly to see Dry Creek Valley, and she too fell in love with it. The valley, which runs northwest from Healdsburg in Northern Sonoma County, is about 11 miles long, but only half a mile or so wide, and the benches and hills on both side of the valley provide a sense of both beauty and embracing comfort.
A few months later Molly and I started thinking about buying a small place in the country. We were both working in high pressure jobs, and the idea of a relaxing weekend retreat was appealing. We visualized a small cabin on an acre of land, and early on we decided to find a location where we could plant 50 or so grapevines to supply our home winemaking hobby. We'd plant the vines, care for them on weekends throughout the year, harvest their grapes, and use those grapes to make a few cases of our own wine.
At first, of course, our thoughts went to Dry Creek Valley, but as much as we loved it, there was an obvious problem – it was 450 miles from our condo in Beverly Hills. So we looked closer to home: Paso Robles, Santa Ynez, Ventura, Cucamonga, Temecula and the avocado-growing areas around Fallbrook. We even considered the mountains above Palm Springs, where I had done some rock climbing on Taquitz and Suicide Rocks. We liked many of these areas, but nothing specific had really grabbed us.
One day in November 1976, I got a call at my office from Gerry Lambert, our new Dry Creek Valley friend who several years before had founded Lambert Bridge Winery. "Charlie, my sister and her husband tell me you're looking for a small piece of land where you can plant a few grapevines. I just heard about a ten-acre parcel that's come on the market up here. Maybe you ought to come up and look at it." It didn't take a lot to convince me to visit Dry Creek Valley again, and I wasn't pressed with work that week, so the next day I took an early morning commuter flight to San Francisco, rented a car and was at Gerry's house by late morning. Molly couldn't get away from her work, so I convinced one of my long-time friends and rock-climbing partners, Grover Gauntt, to go with me.
Gerry drove Grover and me to look at the ten-acre parcel, and although interesting, it wasn't what Molly and I were looking for. It was planted to kiwis, not grapes, there was no house of any kind, and the $160,000 price seemed quite high. On the way back to his house, however, Gerry mentioned that a local farmer, Captain Staehr, had recently passed away, and that the Staehr place might be coming up for sale. I showed interest, and we drove by the property at the far end of West Dry Creek Road.
I liked the Staehr property at first glance. It was fairly steep hillside (I later learned the elevation gain on the property was about 650 feet), and reminded me of vineyard land I'd seen in Burgundy and the south of France. It was a large parcel and had both vineyards and prune orchards. Although it seemed to be far bigger than what Molly and I were looking for, Grover and I were in the area for the day, and I thought we might as well investigate further.
When I expressed an interest in the Staehr place, Gerry said the man to ask about it was Americo Rafanelli, a local grape grower who had just started his own winery. Like many new winery owners back then (and now too!), Americo – "Am" for short – was working a second job as a real estate broker in order to help pay for his winery habit. Gerry told me Am was the most knowledgeable broker in the Dry Creek area and could tell me what I needed to know about the Staehr property.
Am was a handsome and friendly man – I liked him immediately. (He and his wife Mary became our great friends, but that's another story.) At Gerry's urging, Am explained that Captain Staehr – he was a retired ship's captain; I never heard anybody refer to him in any other way – had recently passed away. The property he left behind was owned by his widow, Maja Staehr, who lived in a house on the property.
Am explained that the Staehr property was 98 acres with about 20 acres of prune orchards and five or six acres of vineyard. There was not only Mrs. Staehr's house, but also two barns, a garage, a tractor, a disc and various other pieces of farm equipment. Although the property was not yet on the market, Am thought that Mrs. Staehr would consider selling.
I asked what he thought the property might cost. Am was quite specific; he said that if I was interested, he recommended that I offer Ms. Staehr $132,000 for the property. I was surprised and replied, "That seems too low for all that. Is she crazy or something?" "No", Am replied, "and anyway she has a fine lawyer in town, Frances Passalaqua, with whom she would consult before agreeing to any sale."
I again expressed doubt about such a low price, but Am was quite confident about what he thought the property should sell for. "I'm a young lawyer," I explained, "and even if she'd sell at that ridiculously low price, I don't have $132,000 in cash." "Oh no", Am replied, I don't suggest you offer her all cash. I think you should offer her 10% down and ask her to carry the remaining 90% at 6% interest for 15 years."
At that point, I must confess, I began to suspect that I'd entered my own twilight zone. "That's too good to be true," I said. "That's just too good a deal to be real." But Am remained confident. "Well", I said to both Am and my friend Grover, "if she really would sell for anything like that, then I'd put together a group of my friends, and we'd buy it for sure. But I don't want to put together a group and then have her give me a counter-offer at $300,000. I'd look like a fool to my friends."
Grover (who then owned his own real estate appraisal business) made a sensible proposal. "Well, Charlie, why don't you make the offer Am suggests, and see what price Ms. Staehr counters at. If the counter is close to what Am suggests, then you'll have a sound basis for talking to your friends and putting a group together." Grover's suggestion sounded like a good one, and Am said I only needed to make a $500 deposit, so we began to write up an offer.
Halfway though preparing the offer, Am made another suggestion. "Ms. Staehr is 89 years old. She's in poor health and isn't likely to live much longer. Why don't you offer to leave her with a life estate in her house, so that she can live there for the rest of her life?" That sounded like a good idea to me – my primary interest was in the vineyard – so I agreed with Am's suggestion. We put the life estate provision in the offer.
We finished writing up the offer; I signed it and gave Am my check for $500. Grover and I then enjoyed a nice lunch at Gerry's house and flew back to Los Angeles later that afternoon. I really didn't give much thought to the offer we'd made. I'd never heard of a real estate sale that happened on the first offer, so I didn't consider that I'd done anything more than start a process that would lead to a counter offer from Maja Staehr and her attorney.
When I got home that evening, I spent all my time telling Molly about how much I'd enjoyed meeting Am Rafanelli, and how he had started his own small winery in Dry Creek Valley. I told her the property Gerry had showed us was not what we wanted, and I never said anything about the Staehr offer.
I was back in my office at O'Melveny & Myers the next day when Am called. "Congratulations," he said. "Maja Staehr accepted your offer. You're going to be the owner of 98 acres in Dry Creek Valley!"
I called Molly right away. "Honey," I said, "when we get home tonight, we've got to have a husband and wife conversation about something that's happened."
Next I called my mother, Doris. "Mom, I'm going to need to borrow some money." She was shocked. "You're doing well as a young attorney. What would you need to borrow money for?"
It was such a good deal that we decided to try to do it all by ourselves, and with my mom's encouragement and financial support, we closed escrow in February 1977. We knew from the first that we wanted to start our own winery on the property, and we never looked back.
One more thing: We became good friends with Maja Staehr. She lived in good health to 103.