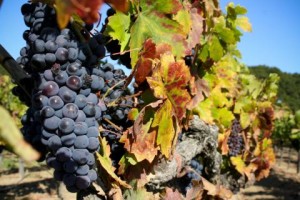 In July 1975, about two months after we had first met, Molly and I were walking in a shopping area near the Los Angeles Airport and passed a home winemaking shop. There was a sign taped besides the entrance: "ORDER YOUR NAPA WINE GRAPES NOW!" Molly saw the sign first and grabbed my arm. "Charlie, we've got buy some. You made wine once before; let's do it together!"
We ordered a hundred pounds of Napa Valley Cabernet Sauvignon, to be picked up at the shop when the grapes were delivered by truck during harvest season.
In late October we went to the winemaking store and they crushed our 100 pounds into two food-grade plastic trash cans that we had brought with us. A hundred pounds of wine grapes is enough to make about 40 bottles of wine, so we weren't dealing with a lot of volume. At the time Molly and I lived in a townhouse-style condominium that I'd bought in Beverly Hills. It was at the corner of El Camino Drive and Olympic – the Beverly Wilshire Hotel was two blocks north, and the famous Beverly Hills shopping area on Rodeo Boulevard was three blocks away.
We kept the two trash-can fermenters in our kitchen, where morning and evening I could use my hands to break up the "cap". Fermentation is a process where yeasts consume the natural sugars in grape juice and in the process emit alcohol, heat and carbon dioxide gas. With red wine, where the juice is kept in contact with the grape skins, the CO2 gets caught up in the skins and causes them to rise to the top of the fermenting juice, where the cap floats partly in the air and partly in the fermenting juice. This cap of skins has to be regularly broken up and put back into the fermenting grape juice for two reasons – first, because the winemaker wants to extract flavor and color elements from the skins; and second, because the heat and the oxygen available to the part of the cap floating above the juice provide a perfect environment for harmful spoilage bacteria.
Breaking up the cap is no problem with grapes fermenting in a trash can – you can do it with your hands. It's very different with much larger batches, where the cap can get so thick that a person can comfortably walk across it. Nowadays winemakers normally break up the cap in a large tank by "pumping over" – using a large pump to take fermenting juice from the bottom of a tank and spray it into the cap, thereby loosening and breaking up the thick mat of grape skins.
In books dealing with the history of the wine business, readers will often see pictures where people seem to be swimming in a large concrete-type vat filled with wine and grapes. This wasn't a pleasure dip. Before the advent of electrical pumps, the only way to break up the cap in a large fermenting vat was to for workers to take off their clothes and jump up and down on top of the cap until they broke through into the underlying juice. Then the workers could use their arms to gradually expand the size of their break-through until finally all of the cap had been once again submerged back into the juice.
After Molly's and my 100 pounds of Napa Cabernet had happily fermented in our kitchen for a week or so, we borrowed a small wooden basket press from the home winemaking store and pressed our must. The pressing took 30 minutes, and cleaning the press took an hour. The yield was about seven and a half gallons of newly fermented Napa Valley Cabernet Sauvignon, most of which we put into a five-gallon glass carboy (like the large water bottle — nowadays usually plastic — that tops an office water dispenser). A case of twelve standard 750 ml bottles equals 2.37753 gallons of wine, so this was enough for about 36 bottles of wine after a small evaporation loss during aging before bottling. Molly and I were already imagining our first dinner with a bottle of our Cabernet.
That evening Philip Spalding, one of my screenwriter clients, called me at home to arrange a meeting for the next day. Philip was a good friend and another wine aficionado, so I told him about Molly's and my exciting venture into winemaking. He was fascinated and questioned me at length. In the process I mentioned that we should have bought more than a hundred pounds of grapes, because the major part of the work was cleaning up afterwards.
An hour later, Philip called back. "Charlie, I"ve spoken to my friend Clifford David. You haven't met him yet, but he's a great guy and someone you should meet because he's a fine actor and would be a good client for you." (I later learned that Clifford sang "Molasses To Rum To Slaves" in the original Broadway cast production of "1776", and "Don't Tamper With My Sister" and "She Wasn't You" in the original Broadway production of "On A Clear Day You Can See Forever".) Clifford became not only a client, but also a close personal friend.
"Clifford and his wife Elsa," Philip continued, "own a Cabernet vineyard in Dry Creek Valley in Sonoma County. Elsa's brother Jerry started Lambert Bridge Winery there. This year Clifford and Elsa have delivered most of their grapes to top wineries, but everybody's tanks are now full to overflowing, and there are still a couple of tons unpicked. They're giving them to us. All you and I have to do is pay for the picking, then get the grapes down here. So let's do it!"
A day later Philip and I took an early morning flight to San Francisco, rented a U-Haul truck, bought 17 green, plastic trash cans, loaded some furniture Philip had stored in San Francisco, and drove across the Golden Gate Bridge about 70 miles to Dry Creek Valley. David Rafanelli, then Clifford and Elsa's vineyard manager and nowadays the principal of A. Rafanelli Winery, had arranged for a ton of the Cabernet to be picked that morning, and when we arrived, David helped us crush the grapes into our trash cans using a hand-cranked crusher. We loaded the trash cans into our truck and prepared to leave for Los Angeles.
We had crushed the grapes in front of Jerry Lambert's house, on a bench that rose about 50 feet on the west side of Dry Creek Valley. It was the first week in November; late afternoon; fog crept up the valley; the dying grape leaves fluttered red, gold and infinite shades in between. I put my arm around Philip's shoulder. "Thank you so much for making this possible," I said. "This is the most beautiful place I've ever seen in my life. I can't wait to show it to Molly."
Seventeen trash cans filled with grapes wouldn't fit into our condo's kitchen, so we put them in our garage. But we hadn't quite anticipated the elevated odor level of this amount of fermenting grapes, and our condo neighbors were soon stopping by. "Hi Molly. Hi Charlie. Is there something strange happening in your section of the garage?" Fortunately our neighbors were wine lovers too, and the only big problem we had at the condo was with the Beverly Hills municipal garbage workers, who for several days refused to take away our pressed grapes skins, claiming they were "commercial waste". It finally took a couple of $20 bills to solve that minor crisis.
There was also the night that Philip, Molly and I worked late into the night pressing our grapes and putting the new wine into 35 glass carboys that Philip had managed to buy from a local spring water company. While washing a carboy about 1:30 in the morning, I lost my grip on it, and the bottle, partially filled with water, flew a couple of feet before crashing into the concrete driveway with an explosive sound. The lights of every one of the other nine condos were turned on within seconds. Thereafter we arranged to do our winemaking during more normal work hours.
I can't tell you that our efforts with these Dry Creek grapes were a huge success. The grape crusher David Rafanelli had borrowed for us to use didn't also destem the grapes, so wine ended up with a slightly green, stemmy taste element that took the edge off what were otherwise strong Cabernet flavors. But whatever the result of that particular batch, the act of processing this substantial quantity of Cabernet took Molly and me into the realm of serious home winemaking, and we never looked back.