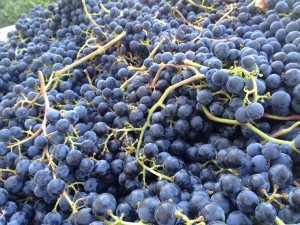 We are enjoying an excellent harvest at the Meeker winery.  It's too early right now for a final evaluation, but indications so far are that this year will be an outstanding Sonoma County vintage.
The weather in Sonoma County this year has been almost perfect for producing high quality wine grapes – a nice spring with no significant problems; a moderate summer with warm days, cool nights, no high temperature heat spikes, and no rain; and to date, a continuation of summer weather into the fall.
There are, however, several days of rain forecast for this coming week, so right now everybody is trying to get their not-yet-harvested grapes picked and crushed as quickly as possible.  The result is a veritable tsunami of grapes for wineries throughout Sonoma County.
The situation is further complicated by the fact that the Sonoma County vineyards are generally producing unusually large crops this year, with the result that there is pressure on most wineries to crush and ferment many more grapes than normal.  The fermentation tanks at some wineries are already full, such that those wineries are unable to accept any addition grape deliveries until their current fermentations are completed.
In theory large per-acre crops do not yield wine that is as good as wines from small per-acre crops.  Each vine's root system is going to produce only so many flavor elements over a fixed per of time, and a small per-acre crop is therefore going to have a greater concentration of flavor elements per grape as compared with a large per-acre crop.  But that's not the case this year – we're getting larger than normal per-acre grape yields, while at the same time the grapes are very high quality.  The reason for this excellent exception to the normal rule is, I believe, due to the fact that this year's moderate summer weather has resulted in a later-than-normal harvest season, and as a result the grapes have had longer "hang time" on the vine, which can be an important quality enhancer.
For us this harvest started on September 17 when we crushed 17.3 tons of Merlot, followed the next day by a field blend of 1.4 tons of Syrah, Grenache and Viognier.  Both of these came from steep hillside vineyards in Dry Creek Valley and Alexander Valley that warm up in the spring earlier than valley floor vineyards and are therefore relatively early in the harvest cycle.
Don't Forget the Pinot
Then it was Lucas' turn to receive grapes for his Lucas J. Cellars label.  On September 27th we received one-third of a ton of Viognier from a young vineyard in Dry Creek Valley, followed on October 2nd by 4 tons of Pinot Noir from the Pisoni-managed Soberanes Ranch Vineyard in the Santa Lucia Highlands, and on October 3rd by 12.4 tons of Pinot Noir from four separate blocks of the Sangiacomo Vineyards in the Carneros and Sonoma Coast appellations.
On October 8th we crushed 13 tons of Merlot from Alexander Valley.  After that, during the period of October 9th to October 18th, we received, all from Dry Creek Valley, 6.25 tons of Cabernet Franc, 1.4 tons of Petite Sirah, 8 tons of Syrah, 5.4 tons of Zinfandel, 4.6 tons of Merlot, two deliveries totaling 22 tons of Chardonnay, and 13 tons of Cabernet Sauvignon.
The last-mentioned Cabernet Sauvignon delivery illustrates the larger-than-normal-crop aspect of this vintage.  This Cabernet comes from a vineyard where we previously purchased all the Cabernet in 2011.  Last year the vineyard produced 6 tons of Cabernet, compared with 13 tons this year. And our two Chardonnay deliveries during mid October illustrate the longer-than-normal "hang time" for this vintage.  Molly and I grew Chardonnay at the first vineyard we purchased in Dry Creek Valley in 1977, and we normally harvested that Chardonnay in late August or early September.  Once we even picked the Chardonnay on August 12th – quite a difference as compared with mid October!
As I write this, we have just received, and are preparing to crush, 11 tons of Malbec from Knight's Valley.  Tomorrow, before the forecasted rains, we expect to crush more Dry Creek Zinfandel and some Dry Creek Grenache.  With the exception of some Knight's Valley Petit Verdot that is not yet fully ripe, that will pretty well finish us for this harvest season – which is a good thing because all of our fermentation tanks are about to be full too.
More Meeker-Style Chardonnay
There is one more fun thing to mention about this harvest.  For a number of years after we opened our first winery in Dry Creek Valley in 1984, we made a traditional Burgundy-style Chardonnay under the Meeker label – overnight skin contact before crushing, barrel fermentation in mostly new French oak barrels, full malolactic secondary fermentation, barrel aging sur lie, etc.  Back then we submitted our wines to the Wine Spectator, and our 1986 got a 91 — and that was a time when the Spectator was quite tight fisted with 90+ scores!.   Thereafter, however, in the early 1990's we decided to stop making Chardonnay in order to concentrate on our "big reds".  Later, in 1999, at the urging of our Florida distributor, we began making tank-fermented, "no oak" Chardonnay under our "Lobster Cove" 2nd label, which has been a success.  We will continue making Lobster Cove Chardonnay, but this year, at Lucas' urging, we are also going to return to making a more sophisticated Meeker-labeled, Dry Creek appellation Chardonnay in the same style as what we did in the 1980's, with the one difference being that we will not use new oak barrels in order to avoid making a Chardonnay that — as Molly puts it – tastes like you're chewing a toothpick.
That's my 2012 harvest report as of Saturday, October 20th.  More later!  Charlie