The rain forecast mentioned in my previous harvest report (Saturday, Oct. 20 – "A Tsunami of Great Grapes") arrived as predicted on Monday, Oct. 22, and stayed around, off and on, for about three days.  Fortunately temperatures also remained cool, which discouraged any rapid growth of botrytis mold and the like.  Then later in the week the weather turned dry and much warmer, which has allowed the harvest to move quickly toward completion.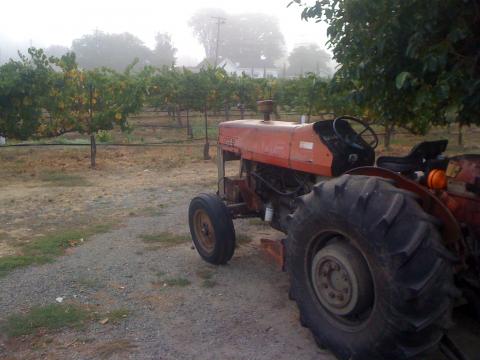 Since my earlier report, we have received and crushed 18 tons of excellent quality Dry Creek Zinfandel (compared with 10 tons from the same vineyard last year), three tons of Dry Creek Grenache.  Lucas also received and crushed two plus tons of Dry Creek grapes for his Lucas J. Cellars Archaic blend (approximately equal quantities of Zinfandel, Petite Sirah, Grenache and Carignane), which will be co-fermented together.  At this point (October 29th) we're preetty much finished with taking in and crushing more grapes this year, with the possible exception of some Knight's Valley Petit Verdot.  But that's not the end of harvest work!
Every fermentation tank in the winery is filled with grapes or juice, as are also virtually all of our smaller open-top fermentation "T-bins".  We like to cold soak our reds for a while before starting fermentation, so not all of the tanks are fermenting yet.  For us the whole process of cold soaking, fermentation at cool termperatures, post-fermentation masceration, pressing, and barreling down the new wine will keep us quite busy until early next year.
All of us at the winery (Brian, Tyler, Ricardo, Chippie, Sara, Lucas, Molly and me) are excited with what we've seen, smelled and tasted so far.  We're very optimistic that this will be an excellent vintage.
This year we've enjoyed giving a number of our Tribe members harvest-time tours of the winery, so if you're in the area, don't hesitate to give us a call at the winery (707-573-9463) and we'll make a date to show you around as well.