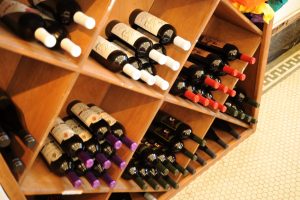 We are on the precipice of summer in northern California, and alongside sunburns, barbecues, and bragging about tomatoes from our garden, that means one thing: weddings. A lovely way to spend a summer evening, made even more lovely if the wine is good.
If you're reading this blog post, that might mean you're wondering how much wine you need for your upcoming nuptials. At Meeker, after years of working with couples planning their events, we have a tried-and-true formula we're proud to share. These formulas also work for retirement parties, work events and holiday parties – any time you want to make sure you have the right amount of wine for a special occasion.
Step 1: How Many Drinks Do I Need?
The first step is to figure out how much alcohol your thirsty guests will imbibe overall. The rule of thumb is one drink per person per hour of drink service.
Meeker's first law of wine dynamics:
# of Drinks Needed = # Guests x Hours of Serving
So, to figure out how much alcohol you will need, you need to know:
What time will you start serving? What time will bar close? This is your "hours of serving".
How many people are coming? While it's tempting to deduct children and other non-drinkers, I usually leave them in the count as a safety margin.
Multiply your hours of serving times your number of drinkers. This gets you your total number of drinks needed. For example if you have 100 guests, and will be serving drinks from 5-10 pm, you'll need at least 500 drinks.
Step 2: How Much Wine Do I Need?
Now we have to figure out how much wine you need. Ask yourself:
What will you serve besides wine in terms of alcohol? Only beer? Cocktails?
Do you have a sense for if your people are wine drinkers vs. beer drinkers?
Typically, we recommend a 60% wine to 40% beer split, but you can customize this depending on your knowledge of your guests (or if you're serving cocktails).
With our example from above and our standard 60/40 split, we'd advise planning for 300 glasses of wine. We assume 5 glasses of wine per bottle, which brings us to 60 bottles of wine, or, at 12 bottles per case, 5 cases.
Step 3: How Much Red Wine Do I Need?
In our experience, most folks prefer red wine, so we generally advise a ratio of 75% red wine to 25% white wine. The exception to this rule is if you're going to have a very hot outdoor summer wedding – in this case, more folks might prefer a nicely chilled glass of white.
Other Words of Wisdom
We recommend keeping your wine selection to five wines or fewer, to make it simple for your guests to select a wine and to keep it streamlined for the servers, who may be asked to explain the choices several times over. On the same note, we recommend selecting recognizable varietal wines for the majority of your selections – this makes it easier for your guests to choose something they know they will like. Usually, the focus at a wedding is not on sampling and learning about wine, but on spending time with beloved friends and family. You want to help your guests make a good choice and get back to the celebration.
Step 4: Be Safe
For many, weddings are opportunities to over-indulge in fine wines and free drinks. If you think your guests might be the over-indulging sort, make sure to arrange designated drivers or provide taxis, shuttles, rides, and other transportation alternatives. In the long run, it's not that hard to get a cab home and pick up your car in the morning. There's absolutely no excuse for drunk driving, and providing transportation solutions for your guests will ensure that everyone has a safe and fabulous time at your celebration.
In closing, do you need help with wine and food pairing or would you like us to provide a list of suggested wines for your wedding? We'd be happy to, and we offer special discounts for weddings! Get in touch!