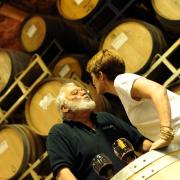 If there's a point where I first jumped onto the slippery slope that some call "getting into the wine business", it probably 1975. I was still practicing law with O'Melveny & Myers, but by then I'd moved from the Corporate Department to a more specialized practice, the Entertainment Industry Department, where we represented producers, directors, actors, writers and others involved in the motion picture and television business. This specialized practice went back to the 1930's, when John O'Melveny started representing Sue Carol, a silent films star and later Alan Ladd's wife. She in turn introduced "J. O. M.", as he was affectionately known, to Bing Crosby, and ever since, the firm has had an active entertainment practice.
In 1975 our department's clients included two related entities, Norman Lear and Bud Yorkin's Tandem Productions, and Norman Lear and Jerry Perenchio's TAT Communications Co. ("TAT" stood for "tuchas afen tush", Yiddesh for "put your ass on the line".) The combined companies had ten television series on the air, including "All In The Family", "Sanford & Son", "Maude" and "Good Times".
Alan Horn was Senior V.P. for both companies, and I met with him regularly to assist in negotiating and documenting deals for actors, directors and other creative talent. Alan's a good friend and a great guy — as I write this he's serving as President of Warner Bros. Motion Pictures. One day in May 1975 Alan and I were in a spirited conversation about one of the series stars who was demanding yet another mid-season 400% per-episode fee increase, when a young lady knocked and entered the office. "Excuse me, Alan, but I've drafted that memo you wanted a-sap." She placed the memo on Alan's desk and left. I was writing down some notes, so I didn't pay much attention to her unfamiliar voice until after she had closed the door to Alan's office. "Who was that?" I asked. "A new employee," Alan replied, "Molly De Hetre." He paused, smiled at me, then continued: "If we didn't have a rule against dating the help around here, guys would be chasing her home every night."
At the time Alan and I were both bachelors. And it's not like I can't take a hint from a friend.
I remember my reaction well — it was like an old fashioned ticker-tape message clacking across my brain: "CHARLIE, YOU WEREN'T PAYING ENOUGH ATTENTION!" When the meeting was over, I asked Alan's secretary to direct me to the new employee. I walked over, sat on the corner of Molly's desk, stuck out my hand and said, "Hi, I'm Charlie Meeker, the company's lawyer."
A few days later we spent more time together at a wrap party for another TAT series, "Hot L Baltimore". Within a couple of weeks we were a steady item, and two years later we were married. This year we're celebrating our 30th wedding anniversary.
Thanks, Alan!