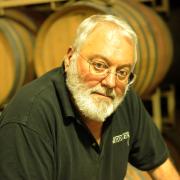 My dad loved wine. His name was Charles Rutherford Meeker Jr. I'm Charles Rutherford Meeker III. My grandfather, Charles Rutherford Meeker, Senior, was born during the presidency of Rutherford B. Hayes. My great-grandfather was named John Quincy Adams Meeker. John Q. A.'s father was Thomas Jefferson Meeker, Jr. Thomas Jr.'s father, my great-great-great grandfather, was born in New Jersey in 1805 and named in honor of our country's President at the time. Thomas Jefferson was not only our third President, but also loved wine, planted vineyards, and established the first winery in America. I guess that pretty much explains everything about me and my love for wine.
I was born and raised in Dallas, Texas, and although I've happily lived in California since 1967, I'm still proud to call myself a Texan. My mother's family was farming in East Texas when it was still part of the Republic of Texas, so my heritage in that great state runs deep. But back the in the 1950's, when I was a teenager, Texas wasn't what you'd call a hot spot for wine lovers. Lone Star Beer, bourbon and branch water, scotch and soda – that was pretty much it. Except, that is, for my father. The only alcoholic beverage Dad would drink was wine. He liked white wine, red wine and Champagne, but most of all, he adored red French Burgundies.
For 16 years, from 1944 to 1960, Dad was Managing Director of the Dallas Summer Musicals, where he oversaw the production of nine Broadway-type musicals each year – eight for two-week runs over the summer, and the ninth for several weeks each October during the annual State Fair of Texas. This job took Dad regularly to New York to see shows, hire personnel and otherwise work toward making the Dallas musicals a success — which they were, and still are, currently under the excellent management of my father's protégé, Michael Jenkins.
I never specifically asked, but I'd guess that Dad developed his love for wine during those many business trips to New York City, then and now one of the great world capitals of wine appreciation. But when the Broadway stars came to do a show for my Dad at the State Fair Music Hall, what they wanted to do most of all was visit Neiman-Marcus – a world-famous store then located only in downtown Dallas. Stanley Marcus, the store's co-founder, was Dad's friend, and he would often personally open the store on Sunday – this was, keep in mind, the 1950's — just so that one or another Broadway star could shop there. Mr. Marcus was also a great wine lover, and when he founded the Dallas chapter of the Confrérie des Chevaliers du Tastevin (a society of Burgundy wine enthusiasts originally founded in 1703), my father was one of the first members. I was too young to accompany my parents to the Confrérie's elaborate dinners, but I listened well to Dad's reports when they returned home, and later, when I was living in Los Angeles, Stanley Marcus arranged for me to join the Confrérie's chapter there.
My father enjoyed nothing more than sitting around with a group of friends and telling stories about his adventures in the theater business. Jack Paar (Johnny Carson's and Jay Leno's predecessor) had him as a guest on NBC's The Tonight Show twice, so that he could tell some of those stories to a wider audience.
Dad didn't live to see me move the family into the wine business in Sonoma County. If he had, he'd no doubt be amazed by the great success of California wine in the world today, and he'd be proud of what we've done with our family winery. Most of all, I know he'd enjoy hearing some of the stories I've got to tell about what happened along the way.