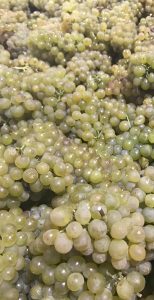 It's fitting that I'm writing you this newsletter during this time of year, at the table I invade as my "Harvest Desk" from roughly late August until early November. That's because this shipment brings you a new wine, the first in a new series, that embodies the magic and madness of harvest. While I am incredibly proud of this vintage of Winemakers' Handprint Merlot, I want to take this space to tell you more about Hone #1: Sakura. I'm excited about this wine for wine reasons, so to speak, but I'm also excited about this wine because it tells three stories that mean a lot to me: it lets me share a little about where I find the magic in winemakin; it represents a multi-decade tradition in our cellar established by my dad; and it tells you about our former Asst. Winemaker/my current brother-in-law Tyler Johnson.
I'm [in]famous for talking about wine technically and focusing on "science-y stuff". That's true, and often folks presume my opinion is that winemaking is all science and all technical, and that I don't feel or find much magic in the process. And while I do love the technical side of winemaking, there is ample magic to be found. It might be counter-intuitive, but you can walk in to a winemaking decision armed to the teeth with information and all it does is make the decision more difficult. And more often than you'd think, what drives a decision is gut instinct.
To me, winemaking is about relationships. We have a relationship with Mother Nature that feels instinctive, magical, and mysterious. We also have a relationship with science that feels structured, confident, and logical. And we force a relationship between the two, where we use science to try and "unlock" the mystery of winemaking, and where we use the data from Mother Nature's fruit to arm science with the tools to teach us more and help us make better wine.
These relationships form a triangle, and our corner, humans, includes all the wrinkles and mess we bring to the table: logistical messes, tradition, artistry, history, ethics, etc. When the relationships—the lines, if you will—between the three points of the triangle are strong, good wine gets made. But the lines aren't where the wine is made. The space inside the lines—which I usually call the "gray area" (but I secretly imagine it isn't literally gray at all)—is where winemaking happens. And that space, where Mother Nature, science, and humans push and pull on each other endlessly, is full of magic. Rolling up our sleeves to dive in every August is a privilege, an adventure, and a lot of fun.
Sakura is a perfect specimen of a wine that could only exist because of the magic of the "gray area", which makes it a perfect choice as the first wine in our new series, Hone. My dad, long before I was making wine, established a tradition of curiosity and a drive to learn and improve that is the foundation for our winemaking ethos.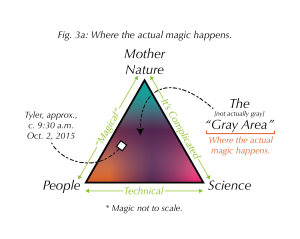 One way he did this was by constantly "experimenting", by which he meant constantly trying to refine our process by finding new grapes, techniques, or winemaking adventures to explore. He insisted on at least one "experiment" every harvest (and usually ended up with a few). These experiments either became or inspired many of our wines: Four Kings, FroZin, Barberian, Zin Gre, Paddle, Fossil and many others all come from this lineage of experiments. And many of the techniques and protocols we use on every wine were refined—or honed [sorry, couldn't resist]—in this tradition. Always experimenting, always learning, always wondering is a tradition I'm very proud to continue, and it will always represent the values that underpin my relationship with my dad.
Sakura is the result of a perfect "gray area" magic moment where my dad's tradition collided with Mother Nature's short yields, our shortage of fermentation space, and Tyler's personality and iron-will. Tyler's idea to co-ferment the short Viognier with our field blend (more on that below and on the back label) was pretty out-there, I never would have come up with it, and I'm pretty notorious for out-there ideas. But if you know Tyler well, the fact that he came up with this idea fits perfectly.
Ty spent five harvests with us, first as a cellar assistant in 2011 and finishing as Assistant Winemaker and Ops Manager after the 2015 harvest. I was friends with Ty for years before he worked in the cellar, so having him in the winery was a lot of, and occasionally too much, fun. You can even see it in our Harvest Records: Tyler's records are at least 40% more diligently kept than mine, and you don't go more than a couple pages of winemaking data without finding some of Tyler's personality. It's hard to explain how a binder full of data and To Do lists can be funny, but Tyler made it so.
Ty is also curious, pragmatic to his core, and fearless. If he thinks something is right, good luck changing his mind. Sakura wouldn't exist if it wasn't for his idea to combine the two lots: he had a gut-feeling that this was an experiment we should try, and he had to convince me. This should tell you a lot about how big of a part of our family, and our tradition, he is. I didn't do anything special other than say "that's a weird idea, <bleep> it, why not?" and then convince my dad (it didn't take much, he loves experiments). This should also tell you a lot about my relationship with Tyler (an in-law!). He was a big, positive force in our cellar, and our wines are better for having had him around as long as we did.
I'm so excited to bring you this first wine in the Hone series alongside another incredible vintage of Handprint. It is a perfect pairing of two contrasting traditions: our first tradition of making classically structured, elegant, age-worthy wines and our second tradition of "experiments" that never stops teaching us how to refine our execution of the first tradition.
As always, our door is open to you when you're in town, and I'm always available by email (lucas@meekerwine.com) to answer any questions or help out however I can. Thank you for your support.