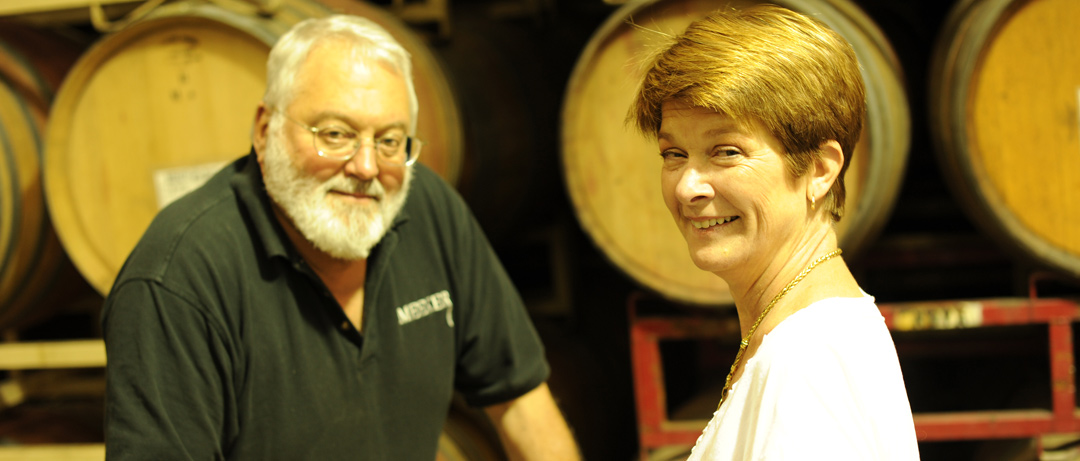 The Meeker Story
Charles and Molly Meeker bought their first vineyard at the end of West Dry Creek Road in Sonoma County's Dry Creek Valley in 1977. In 1984, Charlie and Molly established their winery — The Meeker Vineyard — with Charlie as the winemaker. In its early years, the winery specialized in Zinfandel, Cabernet Sauvignon, and Chardonnay.
The winery's first red wine release, a 1984 Zinfandel, was an instant success, winning eight wine competition medals and becoming the third most awarded Zin in the country that year. Thereafter, among other awards, the 1985 Meeker Zin was a Wine Spectator "Best Buy", the 1986 Zin was a "Spectator Selection", and the 1990 Zin was included among the Wine Spectator's "100 Best Wines of the World". During this period Charlie was also honored to present a Meeker Zinfandel at one of the famous Windows on the World wine dinners in New York. And Zinfandel wasn't the winery's only success – for example, the Spectator gave a 91 to one of Charlie's early Chardonnays.
All this while Charlie was working full time in Los Angeles in the motion picture business (first as an attorney, then as a film producer, and later as a studio executive), so his winemaking career was confined to weekend and holiday trips (many, many trips!) to Dry Creek Valley. Finally, in 1990 when Charlie became President of Metro-Goldwyn-Mayer, this two-career life became too much, and the Meekers hired a full time winemaker for the winery. (Read Charlie's and Molly's full bios for more stories.)
During the 1980's, Meeker wines were generally distributed in a number of states throughout the country, but this began to change in the early 1990's when Sonoma rapidly became a prime target for wine-tasting tourists. At this point, The Meeker Vineyard winery consisted of a 1,664 sq. foot building with no tasting room and only a tiny wine lab in which to welcome growing numbers of visitors. In an act of desperation, Meeker erected a 40-foot-tall tipi (an authentic Sioux tipi in every respect except size) beside the winery and began using it as a tasting room.
This crazy idea worked, and the legend of the tipi remains part of our history and the inspiration for our wine club: the Meeker Tribe. This club currently has about 1,600 members from around the country.
In the late 1990's Charlie and Molly sold their original winery property and bought a new property at on Dry Creek Road, on the eastern side of Dry Creek Valley. In 1999, they left Los Angeles permanently to run the winery full time, with Charlie resuming as Head Winemaker and Molly in charge of pretty  much everything else.
The early 2000's were a time of substantial expansion, with the winery growing from a few thousand cases per year to well over 10,000. After leasing a winery facility in Windsor and then Santa Rosa, the winery is currently three blocks from the Healdsburg Square in downtown Healdsburg.
The Meeker Vineyard tasting room is currently located in the 113-year-old Geyserville Bank building in the farm town of Geyserville, about six miles north of Healdsburg between Alexander and Dry Creek Valleys. In 2001, the Meeker tasting room was cited by The Wall Street Journal as one of the most enjoyable wine tasting experiences in all of Napa and Sonoma Counties.
The Meeker Vineyard is truly a family operation. Molly is President and in charge of marketing and accounting (she's also the Chief Sass and Sarcasm Officer). Charlie is CEO and Co-Winemaker, and also a walking library of stories about the wine business. Molly & Charlie's son Lucas joined the winery full time in 2007 after graduating from Colgate University. Starting off scrubbing tanks and washing glasses, he's worked his way up to COO and Head Winemaker. He also does all of our label design and runs the winery day-to-day. Molly & Charlie's daughter Kelly lives in Bozeman, Montana. Kelly has spent multiple stints at the winery over the years and has cleaned her fair share of tanks. She works full-time in education technology and manages the winery's social media, website and marketing. Kelly's husband, Ty, spent five years total with the winery and served two of them as Assistant Winemaker.
The Meeker family takes pride in an unconventional attitude towards wine. As Molly would love to tell you with a smile: "We take nothing seriously but the wine itself."