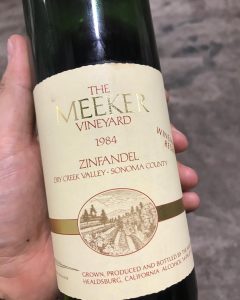 The Meeker Vineyard is coming up on our 40th anniversary, and to celebrate, we'll be pouring wines from four different decades at our first ever Library Tasting event. Here are the details:
Meeker Library Tasting
Saturday, August 19, 1-5 pm
Try and buy 80's Zinfandel (not for sale, unfortunately), 90's Cabernet, Merlot, and Four Kings, 2000's Carignane and Barberian, and some current release wines from the 2010's, like ZinGre, Grenache, Zinfandel, Winemaker's Handprint Merlot, and Four Kings.
RSVP to the tasting room at tastingroom@meekerwine.com or 707-431-2148 if you'd like to attend.
Here's what we'll have for tasting and for sale:
The 1980s
1988 Meeker Cabernet Sauvignon – Estate, $70
The 1990s
1995 Meeker Winemaker's Handprint Merlot, $60
1995 Meeker Gold Leaf Cuvée Cabernet Sauvignon, $60
1995 Meeker Four Kings Bordeaux-Style Blend, $80
1996 Meeker Gold Leaf Cuvée Zinfandel, $45
1997 Meeker Gold Leaf Cuvée Cabernet Sauvignon, $60
The 2000s
2001 Meeker Four Kings Bordeaux-Style Blend, $80
2001 Idle Home Ranch Russian River Valley Zinfandel – 1.5L, $90
2001 Meeker Bartolomei Vineyard Carignane, $50
2002 Meeker Forchini Vineyard Dry Creek Valley Carignane, $50
2002 Meeker Barberian, $40
2003 Tutu Luna Dessert Wine, $28
2005 Meeker Four Kings Bordeaux-Style Blend, $80
2005 Meeker Winemaker's Handprint Merlot, $60
2007 Lucas J Cellars Sauvignon Blanc, $40
2007 Lucas J Cellars Jasper Vineyard Russian River Valley Pinot Noir, $50
2007 Lucas J Cellars "Archaic", $40
The 2010s
2010 Meeker Barberian, $40
2011 Meeker Barrel Select Zinfandel, $38
2013 Meeker Dry Creek Valley Cabernet Sauvignon, $48
2013 Meeker Four Kings Bordeaux-Style Blend, $62
2013 Winemaker's Handprint Merlot, $45
2014 Meeker Chardonnay, $28