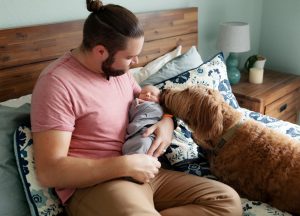 Harvest is always an exciting, emotional, tense, and rewarding time of year for our family. This year it is even more so: my wife, Erika, and I welcomed our son to the world on July 31st, just 18 days before we received our first fruit of the year. His name is Canyon Rutherford Meeker (he shares a middle name and initials with my dad), and he was 8 lbs 15 oz and 21". I'll spare you the details, but Erika was in labor for 62 hours before delivering via Cesarean section. We're all happy, healthy, and…tired.
So you can understand why I'll keep this newsletter short. Please enjoy these pictures of the newest Meeker, and I'll share a full update on this year's harvest in our next installment. A quick preview: yields are up, but so is hangtime (rule of thumb: more time on vine = better grapes). Quality seems to range from slightly above average to excellent, and the quality on Merlot and Zinfandel seems particularly high. The Dry Creek Valley Merlot we received had some of the darkest color at the juice stage I've ever seen—of any variety!
We're anticipating a very busy first week of October, with approximately a quarter of our total tonnage for the year to be picked and processed in a few days. Luckily, our harvest crew this year has a very positive attitude. Ricardo, our Cellar Master, is in his 18th harvest season with us. He's joined by Kat, who spent harvest 2013 and 2017 with us and stayed on as Cellar Assistant; Stephanie, a Chilean who has multiple harvests under her belt at bigger wineries on both sides of the equator; and Matt, who is the son of wine club members and is pursuing a Wine Business MBA at Sonoma State. They've been an excellent team so far, especially through a few very long days, and the wines are already reflecting the consistency and care of their work.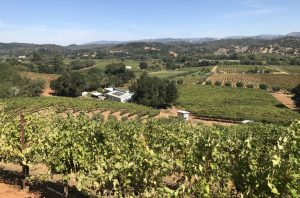 I'm very fond of the two wines we're sending you in this shipment. The Handprint needs no introduction, but I do think this is one of the better vintages of the past decade. The second wine, our first release in about 20 years of a wine from the Scharf Family Vineyard, is very special to our family and the history of our winery. The Scharfs are friends of our family since the '70s, and Kelly and I grew up with their daughters. Their vineyard produced the first vintages of Four Kings in the '90s, including the venerable 1995 vintage, which was one of the best wines we've ever made. The 2015 vintage was the first time I got to work with the fruit, and it was a pretty special experience for me. Block 1 of the vineyard is older than I am, and I have fond memories of running around and playing among those vines as a young kid. The fruit and wine from this vineyard is special in quality and character, but incredibly special to our family in tradition and sentiment.
I hope this newsletter and these wines find you happy, healthy, and enjoying the beginning of autumn. As always, when you're in town our door is open to you, and I'm always available by email at lucas@meekerwine.com.