Last month we shared a special treat with our tasting room visitors – a four year vertical tasting of our legendary Four Kings Bordeaux-style blend. We pulled the 2005, 2006 and 2008 vintages out of the vault and poured them alongside our current vintage 2009. We had many happy tasters – and some visitors who came prepared with their own chocolate! Our tasting notes below. If you've been doing some Four Kings tasting, please share your notes to Kelly at kelly@meekerwine.com and we'll update this post!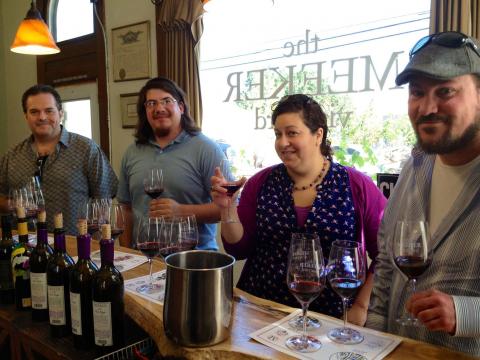 2005 Four Kings
The 2005 has been a show-stopper since the day we released it – and after considering our notes carefully, we think this might still be getting better. The first thing that comes to mind is dark chocolate covered cherries – deep, chewy tannins, big fruit and cocoa flavors and just the right touch of vanilla. The muscular smoky tannins have softened and rounded out with time – but this monster wine probably still has 2-3 years of steady improvement on the horizon, and likely another decade of drinking very well, if not longer.
2006 Four Kings
The 2006 has a very Cabernet-Sauvignon-like flavor profile, with leather and nutmeg on the nose and big tannins on the palate. This wine shows off its lingering acidity and laughs in the face of flabby, sweet table wines. This wine has 3-5 years of improvement to go – getting richer and rounder every year, and will drink very well for years after that.
2008 Four Kings
This wine, like the 2006, features a very Cabernet Sauvignon flavor profile – with leather, soil and spice on the nose and palate, and a bright acidity that keeps the wine tasting fresh. There's a hint of smoky oak and a lingering fruitiness that catches your interest and keeps you coming back for more.
2009 Four Kings
The 2009 is the most complex of the four we tasted, and it is still very, very young. It's bright, fruit forward and tannic – with brambles in its soul and  flavors of sage, rosemary and the rich earth they grown in. This is a muscular wine – and one with miles to go before it sleeps.