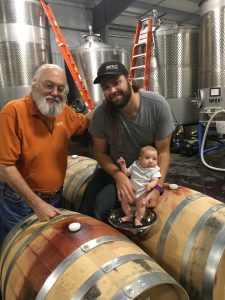 As most of you know, my business desk has been located in our winery's Geyserville tasting room since 2014. The Sonoma County grape harvest generally begins in late August and continues into early November, with activity peaking during late September and early October. I particularly enjoy these peak harvesting periods as experienced by looking out our tasting room's front window onto Geyserville Avenue— and also by listening. But what I see and hear from my desk is quite different than what most people might imagine when contemplating the joys of grape harvest! While Geyserville is surrounded by vineyards, there are no vineyards visible from our tasting room. Just buildings along Geyserville Avenue and the junction with Highway 128.
So what do we see and hear during peak harvest periods? Lots and lots of flatbed trucks, or more often trucks with their own flatbed plus hauling a second flatbed as a trailer, all carrying aluminum grape harvest bins, each bin capable of carrying up to two tons of grapes. Most of these bins are empty in the morning hours, so in addition to seeing these bin-carrying trucks drive by, we hear loud BOOMS coming from the bins as, within their tie-downs, they bounce on the flatbeds. BOOM!, BOOM!, BOOM! But this changes in the afternoon, when most of the bins are full of grapes. The booms are gone, but are replaced by very loud engine sounds as each truck struggles to haul the massive weight of as many as twelve aluminum bins filled with grapes. Also, interspersed among these flatbed trucks, there are tractors driving by, as well as large automated grape picking machines.
Ahhh, these harvest sights and sounds are music to my ears!
In closing, I would like to share with my Tribe friends my sadness regarding the recent passing of my friend Burt Reynolds. I served as Burt's motion picture industry attorney for many years when I was practicing law in Los Angeles during the 1970's and early 1980's. Burt was not only a great actor; he was also a very fine person! One of my favorite memories of Burt occurred on a spring afternoon when Burt was shooting a motion picture on the Paramount Pictures lot. I had just picked up my ten-year-old daughter Michelle from her grade school. But I also needed to get Burt to sign several copies of the completed contract for his next motion picture, so rather than taking Michelle directly home, I drove with her to the motor home on the Paramount lot that the motion picture company was supplying to Burt for his personal use while the film was being shot. I left Michelle in my car, and walked up to the motor home door and knocked. Burt answered and I entered for a short meeting with Burt to summarize the completed contract. He then signed the contract copies, and I shook hands with him and walked to the trailer door. He followed me to the door, and as I walked down the steps outside the door, Burt asked: Who is that person in your car?" I replied that she was my daughter whom I had just picked up from school. Without saying another word, Burt followed me down the steps, walked to the car and opened the front passenger side door. He first put out his hand and shook Michelle's hand. Then he leaned inside the car and kissed Michelle on the cheek. We and he waved at each other as we drove away. Michelle had a huge smile on her face for a very long time.
Charlie Meeker