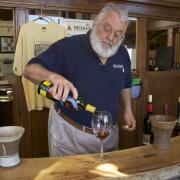 In 1975 I had the pleasure of hearing Joe Swan speak at the first University of California at Davis winemaking seminar I attended. In my mind, and that of many other aspiring winemakers, Joe Swan was already a living legend who had planted his own vineyard in Sonoma County and established a boutique winery, while continuing to work full time as an airline pilot. His success gave hope to the rest of us who were dreaming of the same thing. Mr. Swan's speech was focused on making big Zinfandels – something that he was known for. I took copious notes and referred to them many times in the ensuing years.
I left that seminar anxious to taste some of Joe Swan's Zinfandel, but I soon learned that not even a single bottle was available in our local wine shops. All of the Swan wines were sold only by mail order directly from the Swan winery. I promptly wrote Mr. Swan and asked to be added to his mailing list.
I received no immediate reply and basically abandoned my hope of drinking some Swan Zinfandel. About a year and a half later, however, I received a printed postcard from Swan Vineyards. It was brief and to the point. I had been allocated six bottles of the next Swan Zinfandel vintage. The postcard message explained that the wine was scheduled to be bottled in about six months, but that the winery needed money in advance to pay for the bottling. So if I was interested in buying my allocation, I was to mail a check immediately for the purchase price. In about six months or so, after the wine had been bottled, I would be notified that the wine was available for me to pick up at one of four wine stores located in San Francisco and Los Angeles. Along with my check, I was to select the particular store where I wanted the winery to drop off my six-bottle allocation.
I wasted no time at all. That evening I wrote a check for the cost of my six bottles and the following morning made sure that a properly addressed envelope with my check and pick-up designation was deposited in a mail box. Six months later another post card arrived informing me that my Swan wine was ready for me to pick up at the store I'd designated, which required a 20+ mile drive across Los Angeles to an upscale wine store in Pasadena, California.
At the time I knew nothing about the "bottle shock" that often temporarily affects a wine when it is bottled. Even today, after 26 years as a commercial winemaker, I still can't tell you exactly why bottle shock happens, or what is the physical or chemical cause. I've asked this question of many doctorate level graduates from U.C. Davis, and what I usually get in response is a shrug of the shoulders. (I should note, however, that in recent years I have found that bottle shock does not seem to occur to the same degree with screw capped wines, so the cause is most likely related to the fact that some of the mostly nitrogen gas/air mixture in the neck of the bottle after filling is forced into the wine when the cork is inserted.)
What I do know from experience is this: When a wine is corked and bottled – particularly red wine – the wine usually tastes terrible for one up to three or four weeks after bottling. The good news is that, with time, bottle shock completely disappears, and the wine is as good as ever.
By 1985 when we bottled the first wine I'd made at our new winery in Dry Creek Valley, I was well aware of bottle shock, but a day or so after the wine had been bottled, I couldn't resist opening a bottle at home before dinner. Despite all I knew by then, I was shocked. It tasted terrible – nothing at all like the fine wine I'd sampled from the tank before bottling. I despaired; what could possibly have gone wrong? What had I done wrong in the bottling process? How could I have screwed things up so badly?
I didn't sleep well that night, or for several weeks thereafter, but my wine finally started to come around, and by the fourth week after bottling it was as good as ever. The experience, however, was so unpleasant that I learned my lesson well. Ever since, I wait at least three weeks before tasting a newly bottled Meeker wine, and I sleep very well.
I didn't know all this about bottle shock when I picked up my allocation of newly bottled Swan wine, and when I opened the first bottled for dinner that evening, it was – true to bottle shock form – horrible. In disgust I poured most of the bottle into our kitchen sink, and I put the remaining five bottles in the back of the closet I used for wine storage.
It was almost two years later before I again dared to open one of those six bottles of Swan Zinfandel. It, and the four bottles after it, were fabulous, some of the best Zin I've ever had.
Nowadays when I'm preparing the budget for one of our wine bottling sessions, and despairing at the large cost involved for glass, corks, etc., I often think back to that first postcard I got from Joe Swan. Certainly, I muse, the loyal members of our Meeker wine club, the "Tribe", would be happy to pay for their wine six months in advance – for sure, absolutely, without doubt — don't you think?