After our longtime and much-beloved tasting room manager Julia Berman departed for new adventures, we'd knew we'd have to hire someone new. It was a terrifying proposition–how do you replace someone who has become a member of the family?
We're thrilled to introduce you to Jeff Shaeffer, our new sales manager. You'll meet him in the tasting room and at events, so we want to make sure you get to know him a bit.
Introducing Jeff Shaeffer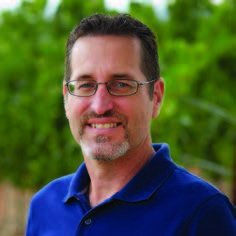 Jeff's been involved with agriculture for his entire life. Born the third son of Earl & Jean Shaeffer of Dos Palos, CA, Jeff spent his childhood working on the family farm, helping his dad in the cotton, alfalfa, wheat, and melons fields of the central San Joaquin Valley.
After graduating at the top of class in high school, Jeff attended Fresno State University.  He jumped straight into the wine business, earning his first grape-stained hands as a production assistant for an upstart winery in the Barossa Valley, Australia.
After 6 months in Australia, Jeff returned to the San Joaquin Valley and took a position with a fresh produce company.  He spent the next 15 years in the produce industry, where he found his passion in traveling and developing new markets for interesting produce.
In 2006, Jeff focused this passion on wine to create his own business importing and developing markets for international wines. While things were getting up and running, he started working in production at Siduri Wines, and soon found himself working in the tasting room while continuing to develop his import business. In 2010, with the import business struggling due to the global recession, Jeff accepted the position of Sales and Hospitality Manager at Siduri Wines and Novy Family Winery.
Jeff takes great pride in being a part of a small family business and being able to work closely with the owners to boost the footprints of their wines all over the country. We're thrilled to have him spreading the word about Meeker.
Jeff and his wife Sharilyn call Windsor their home, where they pursue tons of adventures with their two year old son Everett. And there are more adventures on the way: they're expecting their second child, another boy, in July.