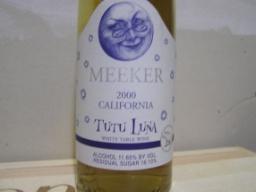 Our dessert wines are not only fabulous to sip with a fresh cobbler, cake, ice cream or cheese plate – they make unusual, fresh and fruity cocktail ingredients. Even if dessert wine isn't really your thing – I guarantee you the TutuTini is worth trying.
The Classic TutuTini
2 parts Tutu Luna
1 part vodka
hearty splash of mango nectar or pear nectar
Shake it over ice and serve it in a martini glass with a lime twist.
Kelly's Mango Variation
Fruit of one mango
1/2 bottle Tutu Luna
1 cup vodka (Absolut Citron is great here)
a few ice cubes
juice of half a lime
Combine all ingredients in a blender and blend until smooth. Serve in margarita glasses with a lime. Makes 2 or 3, depending on what kind of margarita glass you like.