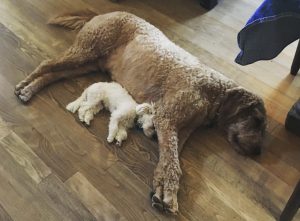 Another chapter in the annals of the DCVC&CA (the Dry Creek Valley Coyote &Chicken Auxiliary; successor to the Dry Creek Valley Skunk & Newspaper Patrol).  Austin, the Goldendoodle, and Remy, the Maltese, are the sole and founding members of the DCVC&CA.  Molly is the recording secretary and chief mess officer.
Until recently, Molly believed that Remy was too small (5 pounds, 8 ounces and 4 inches at the shoulder) to walk or hike with Austin.  She even bought one of those dorky chest packs to carry her on their hikes around Lake Sonoma.  The last few months, however, have been a revelation.  Remy is solid muscle, spring loaded, and determined to match Austin stride for stride.  Except, of course, it doesn't work that way.  One stride for Austin is five for Remy, and when he trots, she's trot/cantering to keep up.
Take, for example, their latest walk in Healdsburg.  Molly and Austin walked 2.35 miles.  Remy did about 3.00.  Remy not only takes five times as many steps as Austin, she is compelled to investigate every driveway, door path and hedge along the way.  She launches herself up whatever the sidetrack is, feet touching down about five feet in, and scrambles almost to the length of her extend-a-leash, sniffing madly, then returns to Austin's side just before the leash reaches its limit and tugs her. And when the leash tugs Remy, she goes flying.  Zero resistance.  So, we have Molly and Austin more or less sedately, but briskly, booking up the sidewalk in more or less a straight line, and Remy braiding a trail around them when she's not inadvertently flying through the air at the end of her retractable leash.  This is all before they encounter other dogs.
Once again on their latest walk in Healdsburg, a perfectly nice man with a Rottweiler puppy on a leash approached the DCVC&CA on the sidewalk.  From a distance of about 30 feet, he said, "This one's friendly, how about yours?"  Molly replied, "The big guy's fine, but it's the little one that will mess with him."  Sure enough, Remy charged the 80-pound puppy with zero fear and/or good sense, yapping madly, and attempting to bite his ankles.  Molly applied the brake on the retractable leash and Remy did a mid-air 180 turn.  Meanwhile, the Rottweiler was grinning and trying to say hi, and nearly ripping the nice man's arm off.   They parted ways with difficulty, but with smiles.
Remy has, therefore, earned her bones, so to speak, and on the next Lake Sonoma hike, she will walk, not ride.
Sunday, April 23, it happened – Remy walked, nay, trotted, the 4.5 miles around Lake Sonoma.  She outlasted Austin!  In fact, when he needed a second rest stop (after the traditional halfway liedown in the shade with water), she walked in circles around him, as if to say, "Why are we stopping here?"  True to her nature on the street walks, she accosted every other dog, including two huskies and a pit bull cross, on the trail.  She may be tiny but she's nobody's wuss.  A very strong, very outspoken, fearless young lady.  And isn't that nice?