The terrible fir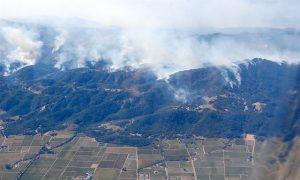 es that burned in Sonoma, Napa and Mendocino counties this past October were a great tragedy.  In Sonoma County alone, the wildfires destroyed 6,600 structures, including 5,130 homes, and killed at least 23 people, according to data released by Cal Fire in early November.  Our hearts go out to all the people who suffered losses from these wine country fires, as well as to the people in Southern California who are suffering from out-of-control wildfires as I write this.
I want to report to our Tribe, however, that our winery and tasting room escaped fire damage, as did Molly's and my home, as well as Lucas' and Erika's home.  Our tasting room in Geyserville was in a recommended evacuation zone, and we closed it for a week, but since then it's been back on a normal operating schedule.  I also want to report that Austin and Remy (Molly's and my dogs) and Ennis (Erika's and Lucas' dog) are as happy and fun as ever.
During the fires there was a great deal of speculation about the possibility of smoke tainting the grapes.  So far as we know, however, this did not develop into a significant problem.  Virtually all of our wine grapes had been harvested before the fires, and the very small amount of grapes harvested after the fires did not suffer from smoke taint.
I can also report positive news that, in general, the Sonoma, Napa and Mendocino wine industries did not suffer significant physical damage from the fires.  There are more than 1,000 wineries operating in these three counties.  To my knowledge, only eleven of those wineries were destroyed by the fires, and an even smaller number of wineries suffered some fire damage, but are still able to operate.
And while the fires did burn around the edges of some vineyards, they did not generally attack entire vineyards.  Indeed, in a number of instances, vineyards served as fire breaks.  Most of the vineyards are as glorious to view as ever.
There has, however, been an intangible negative effect from the fires.  Since the fires, the number of wine lovers traveling to visit our wineries and tasting rooms (as well as our local hotels, restaurants, etc.) is significantly reduced.  We ask, therefore, that you help us spread the word that, while the October fires were devastating in many ways, they did not have a major negative effect on our North Coast wine industry.  The great majority of our wineries, restaurants, hotels, etc. are operating in a perfectly normal manner.  Please come visit!
All of us at The Meeker Vineyard wish you and yours Happy Holidays and a wonderful New Year!
Image credit: