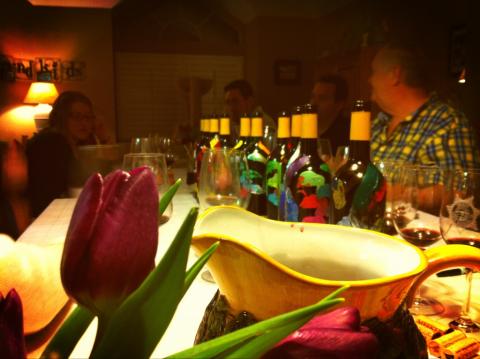 After our recent exploration of how Handprint becomes Handprint, we are pleased to share tasting notes for our "library wines" – past vintages of Handprint Merlot you may have in your cellar.
Last spring, our friends Al & Patti Kruse graciously invited us to partake in drinking their 10-year vertical of Winemaker's Handprint Merlot – and despite our, ahem, enjoyment of the evening we managed to take notes.
All of the Handprints are Sonoma County except where noted.
1998 (13.8% ABV)
The youngest in the bunch – we figured this one would be ready to drink, if not past its prime! But this wine might have another 5 years on it. There's plenty of fruit, bright flavors and a full palate–our only criticism here was a slightly short finish–but perhaps that's to be expected after 15 years.
1999 (14.2% ABV)
Mendocino County
This has a distinctly Cabernet-ish nose, with great color and a flavor profile like a French Bordeaux. We recommend drinking this now or within the next year.
2001 (14.5% ABV)
When we got to the '01, Luke yelled (if you know him, you know what I mean), "I'm glad we decanted this one." This is a Merlot that makes Sideways look stupid – it's huge, with cassis in the nose and blackberry jam on the palate. This has another 5 years on it and should be decanted well in advance of consumption.
2002 (14.8% ABV)
This was Luke's favorite of the older wines, with big, broad flavors and a lot of complexity. We commented on the oaky nose and muscular flavors. This would be another one to decant and drink in the next four or five years.
2003 (14.9% ABV)
If you're going to drink this now, Molly recommends her trusty "mega decant" technique – put it in a blender and pulse for a minute or so. This instant aeration will help open up the flavors. This has a cassis aroma, with some hot undertones. Charlie thinks this is not quite ready to drink and would benefit from another few years of rest.
2004 (14.6% ABV)
The '04 is another candidate for the blender decant – it has a flashy, vanilla-smoky nose and some hints of soil flavors on the palate. This is another wine that should be stashed in your 2014-2016 time capsule!
2005 (14.8% ABV)
This wine tastes like Handprint concentrate – huge intense flavors, and still tannic on the finish. This wine is probably not yet at its prime and will certainly age another 5-8 years.
2006 (14.4% ABV)
This wine exhibits our classic Handprint profile – cherry, cola and spice, with hints of smoky oak. This wine is drinking really well now and we recommend drinking within the next year or two.
2008 (Apparently by the 2008 I forgot to write down the ABVs. I'll look this up in the cellar tomorrow.) 
This is a young wine that has many years ahead of it. The tannins are big and it shows off its Cab influence. How long will it age? Call us back in 5 years and we'll let you know!
2009
Our newest Handprint – this is still in Big Red Preschool. Cherry, cola and chai flavors mix make me dream of many big dinners for years to come. I hope Molly ("Mom" to me) will make eggplant parmesan. Mmmmmm.
Are you hoarding Handprint in your cellar? If so, let us know how it's tasting next time you get a chance. We love to keep up with our wines in the wild.
Thanks again to the Kruses for generously opening their library to share with us. The evening was a treat we will remember for years to come.